Corporate Presentations
---
Condor's current investor presentations are available below: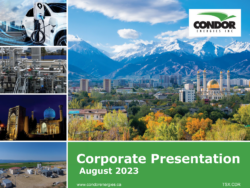 Download Corporate Presentation – August 2023
ICE/BREAKERS
A conversation about Canadian and Eurasian business
Icebreakers is the only podcast exploring the intersection of Canadian and Eurasian business, culture and personalities. Join Nathan Hunt as he hosts leaders, politicians, artists, and more as they reflect on the current state of Canadian and Eurasian cooperation and look to the future to speculate on what is to come. With each new episode, we discover new exciting stories, personal experiences and determine various opportunities to form a bilateral dialogue between our countries and people.
"Can-do Attitude Globally" with Mr. Don Streu, Honorary Consul of the Republic of Kazakhstan in Alberta and President, CEO and Director at Condor Energies.
Go to the Podcast
Please scroll down to Season 2
Condor Recognizes Kazakhstan's 30th Anniversary of Independence